PIT YOUR BRICKS AGAINST THE OUTLAWS OF GUFFON CITY!
BRICKMAN BEGINS IS NOW AVAILABLE TO BUY FROM THIS WEBSITE!

152 page trade paperback, digest size. Full details below. NOW AVAILABLE FOR UK BUYERS ONLINE! BUY NOW directly from me using PayPal for £8.00 including postage and packing. Click the PayPal button below to commit to buy. UK ONLY. (I will sign the book on request at no extra charge.)
NON-UK BUYERS: Please visit these sites to purchase your copy of BRICKMAN BEGINS: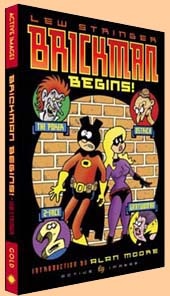 A unique mixture of a Batman parody and traditional UK comedy, the original Brickman returns! There's a crime-wave in Guffon City so rev up the Brick-Mobile and let's KICK BRICK!
Los Angeles based publishers Active Images have now released BRICKMAN BEGINS! - a 152 page trade paperback collection of all the Brickman strips which appeared in various fanzines and comics from 1979 - 1996. Packing the book with "a fine compendium of knee-slappers, guffaws and belly laughs" (as Alan Moore called it) BRICKMAN BEGINS! will also contain the following extras:

The "guest page" Brickman chapters by DAVE GIBBONS, KEVIN O'NEILL, and MIKE COLLINS/MARK FARMER from 1986.

ELEVEN brand new guest page illustrations of Brickman by ALAN DAVIS, TIM SALE, DAVID HINE, IAN CHURCHILL, HUNT EMERSON, RICHARD STARKINGS, MIKE COLLINS, CHARLIE ADLARD, DAVE WINDETT, MIKE HIGGS, and RICHARD ELSON!

A brand new PROLOGUE strip by Lew Stringer!

The six page COMBAT COLIN strip from 1990, teaming Colin with Brickman in a spoof of THE PRISONER tv series!

A new lighthearted interview with Lew Stringer conducted by publisher Richard Starkings, covering Lew's 20 year career in British comics, illustrated with clips from some of his other strips over those two decades.

An introduction by ALAN MOORE!

THE UNUSED BRICKMAN: A section showcasing never-before published pages!

All in BRICKMAN BEGINS! 152 pp trade paperback, black and white with full colour covers. $9.99

Available at comics speciality shops in the USA and UK, or direct from the publisher and soon to be available from Amazon.com.
NEWSFLASH:
Brickman Begins will now feature 152 pages! That's 8 more than the 144 originally advertised - at no extra price! Brick-tastic!
"His villains are defeated through circumstances that would make Adam West howl with laughter.... Stringer blends the modified invulnerability of characters like Daffy Duck in with the superhero parody, creating a cross between classic cartoon storytelling and classic superhero storytelling, all with a dry humorous twist."

- The Fourth Rail website
Some of the contributors to BRICKMAN BEGINS have their own sites on the net. Click on the links below to view their artwork:


MIKE COLLINS http://www.freakhousegraphics.co.uk/
ALAN DAVIS http://www.alandavis-comicart.com/
HUNT EMERSON http://www.largecow.demon.co.uk/
DAVE GIBBONS (fansite) http://www.davegibbonsfansite.com/
Dealer selling Dave Gibbons artwork: http://www.chaoscitycomics.com/dave/daveintro.htm
TIM SALE http://www.timsale1.com/