The official website for Lew Stringer's BRICKMAN

Publishing a Brickman comic is often in my thoughts. Health, time, and fortune willing, I'll be putting together a
Brickman Returns
comic later this year or early 2012. It'll collect all the Brickman strips that appeared in
Elephantmen
, plus a few pages of other material. More news if or when it develops! In the meantime, here's a preview of a
possible
logo for the comic...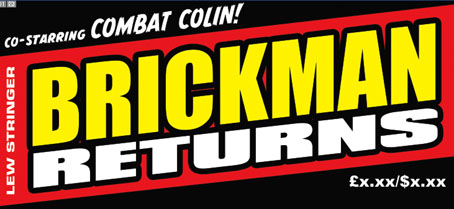 Previous news....
THE END OF BRICKMAN
Sadly the BRICKMAN back up strip in Image Comics' ELEPHANTMEN has now reached its conclusion. Although the ELEPHANTMEN comic will continue, Brickman has been dropped and the final two chapters appear in issue 24, on sale now.
The character originally appeared in the fanzine AFTER IMAGE issue 3 back in November 1979. Initially his name was "Brick-Person" for the first few strips, but I settled on the snappier "Brickman" after a while.
The character was originally conceived as a short term Batman spoof, and never envisioned with longevity in mind, but his popularity has brought him back time and time again over the decades. Over the last thirty years Brickman has appeared in fanzines, small press comics, a one-off 1986 comic, the graphic novel collection BRICKMAN BEGINS (from Active Images), and became a recurring full colour strip in most issues of Image Comics' ELEPHANTMEN with issue 2 in 2006. Since then 20 Brickman pages have appeared in the comic.
Perhaps it's time that the adventures of Brickman were brought to a close anyway. I've achieved what I wanted to do with the character and his journey from small press fanzines to U.S. publisher Image Comics has exceeded all expectations I had for him. I'm grateful to editor Richard Starkings for giving Brickman some exposure in the USA and, with Elephantmen optioned to become a Hollywood movie I'm sure the comic will thrive without its brick-flinging back up strip.
ELEPHANTMEN is available from comic book speciality stores priced $3.50.

BRICKMAN AT IMAGE COMICS!

It's my great pleasure to announce that 27 years from his first appearance in a UK fanzine, a brand new series of FULL COLOUR Brickman strips began in a top new American comic in the Summer of 2006.

BRICKMAN RETURNS is a one page back up strip which started from issue 2 of ELEPHANTMEN, the new title being packaged by Comicraft and published by Image Comics.

The main strips in ELEPHANTMEN expand the universe previously seen in Active Images' HIP FLASK comics by Richard Starkings and Ladronn. The new Elephantmen strips feature various guest artists. BRICKMAN is a seperate entity from that universe and I handle the whole strip, from script, art, lettering and colour.

Entitled BRICKMAN RETURNS the short self-contained humour strips will initially expand on the early years of Brickman's crime-fighting career for the benefit of the majority of readers who will be unfamilar with this particular Batman spoof. This will be Brickman's largest readership to date, so it's important to start anew.

However, the strips will not be mere re-treads but instead delve into unknown aspects of Brickman's world. The first strip revealed for the first time the identity of the person who threw the brick that lamped Loose Brayne on the nut way back in 1979, while the second strip explained who built the Brick-Cave.

Following strips reintroduced the supporting cast of sidekick Tina Trowel, Commissioner Moron, and the rogue's gallery of The Poker, Ostrich, etc. The possibility of setting stories after the events of the BRICKMAN BEGINS! graphic pocket-novel are also being considered, but at present it's a case of one step at a time.

Brickman first appeared in 1979 in my comics fanzine AFTER IMAGE, and then moved on to various other fanzines and mini-comics throughout the 1980's. In 1986 Harrier Comics published a BRICKMAN one-shot, and the character vanished from the scene for ten years before returning in the YAMPY TALES small press comics in 1996. In 2005 the character resurfaced again in a 152 page collection, BRICKMAN BEGINS, published by Active Images (see details on other pages of this site). Although Brickman has been around irregularly for 27 years his return in ELEPHANTMEN is Brickman's first appearance in a full colour comic.

ELEPHANTMEN is written and edited by Richard Starkings, who a couple of decades ago was my editor at Marvel UK when I was producing Combat Colin for THE TRANSFORMERS fortnightly. Since moving to Los Angeles Starkings has trailblazed computer comic book fonts with his Comicraft business and published several impressive graphic novels under the Active Images imprint.

- Lew Stringer,2006

Click HERE to see a Flash TRAILER for Elephantmen

Click HERE for the Newsarama feature on ELEPHANTMEN

Lew Stringer has been freelancing professionally as a comics artist/writer since 1983. The creator of popular humour strips TOM THUG, COMBAT COLIN, SUBURBAN SATANISTS, TRANNY MAGNET, and PETE AND HIS PIMPLE, to name but a few, his work has appeared in titles as diverse as BUSTER, VIZ, TRANSFORMERS, TELLYTOTS, LEGO ADVENTURES, SONIC THE COMIC, SPIT, SWEET FA, OINK, LUCKY BAG COMIC, SUNDAY SPORT, and numerous others.

He currently writes/draws: 

TEAM TOXIC for TOXIC magazine

BRICKMAN for ELEPHANTMEN

Occasional strips such as SUICIDAL SYD for VIZ

MINI MARVELS for Panini UK's SPECTACULAR SPIDER-MAN

and draws SUPER SCHOOL in THE BEANO.




CURIOSITY CORNER:
The final issue (No.6) of ALBION included a surprise cameo appearance! Loose (Brickman) Brayne's brick! Visit the website of ALBION authors Leah Moore and John Reppion by clicking the display case!

BRICKMAN BEGINS!

MANGA-SIZE MIRTH!

BUY NOW from this website: BRICKMAN BEGINS! - a 152 page compilation of 26 years of Brickman strips! Also featuring 14 guest artist pages! Brick-tastic!

| | |
| --- | --- |
| | £8.00 inc. p&p (UK buyers only) |

The July 2005 issue of THE COMICS JOURNAL carried this ad (below) on its back cover; a spoof of the Batman Begins movie poster, - with CGI bricks!



It was a fun weekend to be a guest at the BRIGHTON COMIC EXPO (November 19th - 20th 2005) and meet up with friends old and new. More than 90 guests from the world of comics, - but we were all upstaged by a fully operational voice-modulated Dalek having a "walkabout" around the hall. A highlight of the Sunday morning.

Click on the photos below to visit the Comic Expo website.

UPDATE: The BRISTOL INTERNATIONAL COMIC EXPO (May 13th-14th 2006) was another great weekend for comics creators and readers! Thanks to all the people who stopped by for a chat. For a photo-report on the event, click on the images below to visit my other site http://lewcomix.tripod.com/id7.html

Questions or comments? Contact me at:
BRICKMAN and all related characters in Brickman Begins are Copyright İLew Stringer 2006. Images and text from this website may not be reproduced without permission. Not even on other websites. That goes for eBay too!