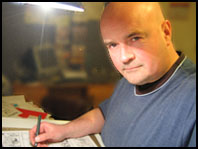 Lew Stringer has been freelancing professionally as a comics artist/writer since 1983. The creator of popular humour strips TOM THUG, COMBAT COLIN, SUBURBAN SATANISTS, TRANNY MAGNET, and PETE AND HIS PIMPLE, to name but a few, his work has appeared in titles as diverse as BUSTER, VIZ, TRANSFORMERS, TELLYTOTS, LEGO ADVENTURES, SONIC THE COMIC, SPIT, SWEET FA, OINK, LUCKY BAG COMIC, SUNDAY SPORT, and numerous others.

He currently writes/draws: 
TEAM TOXIC for TOXIC magazine
BRICKMAN for ELEPHANTMEN
Occasional strips such as SUICIDAL SYD for VIZ
MINI MARVELS for Panini UK's SPECTACULAR SPIDER-MAN
and draws SUPER SCHOOL in THE BEANO.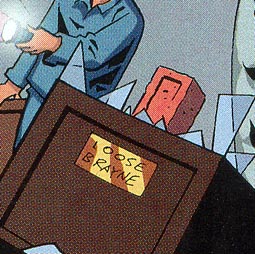 CURIOSITY CORNER:
The final issue (No.6) of ALBION included a surprise cameo appearance! Loose (Brickman) Brayne's brick! Visit the website of ALBION authors Leah Moore and John Reppion by clicking the display case!